Webb Telescope Experience
Designed entryway and common spaces of Redondo Beach manufacturing facility
(Northrop Grumman Corporation, 2014)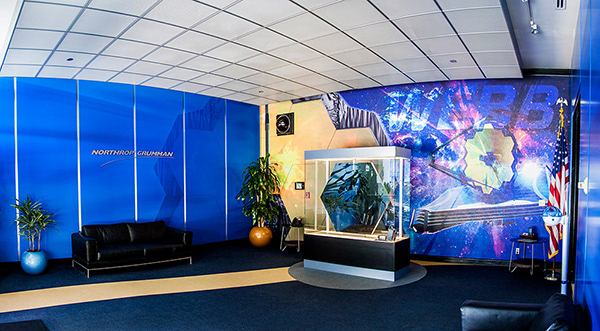 Redondo Beach, California — Tucked away in the NE corner of Northrop Grumman's Space Park lies the rapidly progressing production of the most technologically advanced telescope known to man, the
James Webb Space Telescope
.
  Regularly toured by outside groups ranging from girl scouts to Congressional Reps., this design team aimed to create a space that would welcome guests and accommodate group photos without the risk of exposing
sensitive areas of the building or distracting the engineers who are busy building the spacecraft.  
I'm unable to share the extensive work that our team put into the guts of this building, however the lobby pictured above met these requirements, not only by offering tour groups an exciting focal point for their photos, but also providing a mind-blowing demonstration of the telescope's magnification capabilities by looking directly into the display mirror.  Guests can also see the elaborate craftsmanship and mechanical components of the telescope by walking behind the mirror, and perhaps even pick up on the room's subtle design details such as the identical aluminum finishes on the ceiling, walls, and furniture, matching carpet colors and wall graphics, and identical perforation in the ceiling lighting and mirror display case. 
As the launching point of Aerospace Systems' Webb Telescope tour, the room amply accommodates a large number of people, provides seating for parties waiting to be escorted into the high-bays, and most importantly, through generous use of the company's signature blue, screams "Northrop Grumman" as one enters the building.
​​​​​​​